About Us


President's Message
As one of the world's leading fine chemical and pharmaceutical specialists,we will solve the issues facing society with the power of chemistry.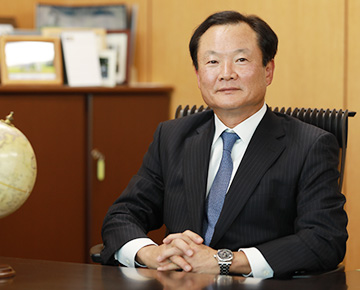 TSUTOMU MIYAZAKI
President & Chief Executive Officer
ITOCHU CHEMICAL FRONTIER Corporation
ITOCHU CHEMICAL FRONTIER Corporation is a core operating company that specializes in high performance chemicals in the ITOCHU Group. While the chemicals division of ITOCHU handles the basic chemicals field called "Kawakami" in the chemical industry, the Company is guided by basic chemicals as a starting material, and has high added value "Kawanaka" and "Kawashita" in charge of chemicals in the fine chemicals / specialty chemicals area, and independently developing export / import / trilateral trade.
Its business areas are diverse, such as polymer raw materials, functional materials, eco-life science related and medicine. Business activities in each area are not limited to global trade, but start from that, we are also spreading into the areas of investment and lending to companies in and outside Japan, manufacturing outsourcing, partnerships with overseas supply sources and venture companies, technology licensing, etc. For example, in the pharmaceutical business, in addition to the import of high-quality drug substance, intermediates and drug products, the company owns a laboratory (laboratory) and handles quality control operations, safely and stably domestically. We have established a system that can supply raw materials and products to pharmaceutical companies.
In addition, we plan to actively promote global investment business to develop new markets.
For example, in the new patch business sold through US investment, it is expected that it will help solve the social problems that the United States faces: the increase in poisoning patients due to repeated use of opioid analgesics.
In retrospect, chemistry has greatly contributed to overcoming the many crises encountered by humanity. And now, with the rapid population growth and economic development, the world is facing serious problems such as environmental problems, food problems, water resource problems and energy problems that have never been experienced before. Innovation in the field of chemistry is even more needed to solve them. We use our experience and know-how accumulated over many years as a chemical products trading company, and the global network of the Itochu Group, to quickly discover chemicals derived from superior innovation and to markets around the world In addition to making people's lives richer and more comfortable, we want to contribute to the realization of a sustainable society. We will also focus on developing talented people who can carry out this mission on a global scale.
With the motto "Providing functions and added value as a business partner that can be trusted with integrity (credit)," we, as the world's leading fine chemical and pharmaceutical specialty trading company, Itochu Chemical Frontier (Itochu Chemical Frontier) hope to open up new horizons of chemistry with various business partners and to be a force that will make people around the world happy.